Trade Alert – (X) –SELL – TAKE PROFITS
SELL the US Steel (X) October, 2017 $22-$23 in-the-money vertical bull call spread at $0.98 or best 
  
Closing Trade 

10-5-2017 

expiration date:  October 20, 2017 

Portfolio weighting: 10% 

Number of Contracts = 115 contracts 

With the Mad Hedge Market Timing Index now  more overbought than any time in the last 17 years , I absolutely have to take some money off the table here. 

This morning we got yet another assist in the form of August Factory Orders, up much better than expected. 

This tops a string of red hot economic data that has been erupting every day this week. 

As I expected, the global synchronized economic recovery is accelerating, driving stocks up, especially industrials. 

So I am going to use this pop in the shares to take profits in the US Steel (X) October, 2017 $22-$23 in-the-money vertical bull call spread at $0.98 or best. 

We have realized 84.66% of the maximum potential profit in this position. 

The risk/reward of continuing for 11 more trading days until the  October 20expiration is no longer favorable. 

Better to raise cash here so we can re-establish this long position on the next stock market dip, even a small one. 

With this trade we have earned a robust 12.64% profit in only 6 trading days. 

This brings our 2017 year to date performance up to a stratospheric 52.45%.
---
— TRENDING NOW—
SHOCKING: Federal Reserve #2 Resigns Because of…
What I'm about to show you could have a huge impact on your life.
---
If you bought US Steel shares, keep them. They are going much higher, probably right into the end of the year. 

Here are the specific trades you need to execute this position: 

Sell 115 October, 2017 (X) $22 calls at…….………$4.85 
Buy to cover short 115 October, 2017 (X) $23 calls at……….$3.87 
Net Proceeds:………………………….…………..…….……..$0.98 

Profit: $0.98 – $0.87 = $0.11 

(115 X 100 X $0.11) = $1,265 or 12.64% in 6 trading days.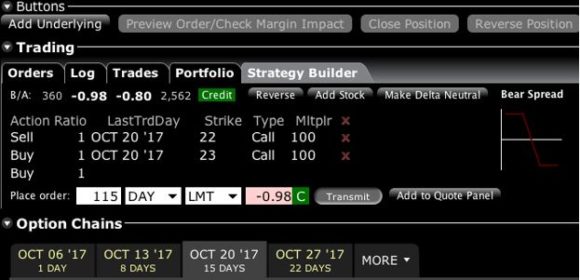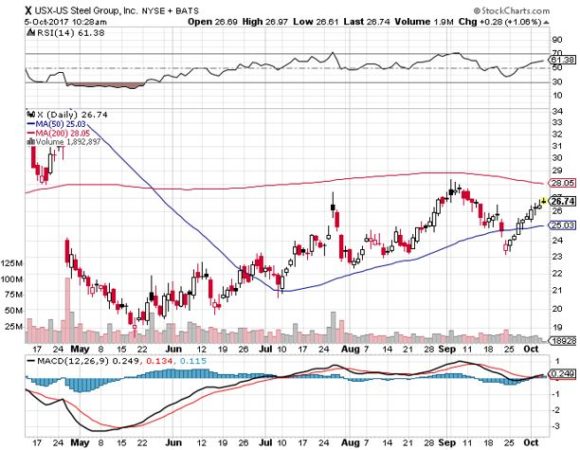 To see how to enter this trade in your online platform, please look at the order ticket above, which I pulled off of  Interactive Brokers .
Please keep in mind that these are ballpark prices only. There is no telling how much the market can move by the time you get this.
The best execution can be had by placing your bid for the entire spread in the middle market and waiting for the market to come to you. 

The difference between the bid and the offer on these deep in-the-money spread trades can be enormous. 

Don't execute the legs individually or you will end up losing much of your profit. Spread pricing can be very volatile close to expiration. 

If you don't get it done, don't worry. There are another 250  Trade Alerts  coming at you over the coming 12 months.
THE SPECIAL OFFER