Trade Alert – (TLT) TAKE PROFITS
SELL the iShares Barclays 20+ Year Treasury Bond Fund (TLT)October, 2017 $129-$131 in-the-money vertical BEAR PUT spread at $1.98 or best
Closing Trade – NOT FOR NEW SUBSCRIBERS
10-4-2017
expiration date: October 20, 2017
Portfolio weighting: 10%
Number of Contracts = 66 contracts
---
— TRENDING NOW—
SHOCKING: Federal Reserve #2 Resigns Because of…
What I'm about to show you could have a huge impact on your life.
---
This morning we got our second day of RED HOT back to back economic data in the form of the September ISM Service Report. It soared from 55.5 to 59.8, the second highest reading in 1 2 years .
As I expected, the global synchronized economic recovery is accelerating, driving stocks up and bond down.
So I am going to use this dive to take profits in the iShares Barclays 20+ Year Treasury Bond Fund (TLT) October, 2017 $129-$131 in-the-money vertical BEAR PUT spread at $1.98 or best.
We have realized 93.93% of the maximum potential profit in this position.
The risk/reward of continuing for 12 more trading days until the O ctober 20expiration is no longer favorable.
Better to raise cash here so we can re-establish this short position on the next bond market rally.
With this trade we have earned a robust 18.56% profit in only 8 trading days.
This brings our 2017 year to date performance up to a stratospheric 51.85%.
I think the prospect of Janet Yellen's liquidation of $6 billion a month, or $200 million a day of Treasury bonds will continue to overhang the market for the foreseeable future.
That should take bonds down to new 2017 lows. What we could be seeing here is the setting up for the perfect head and shoulders top of the (TLT) for 2017.
If you bought the ProShares Ultra Short 20+ Treasury Bond Fund (TBT), a bet that bonds will fall, keep it. This ETF is going much higher.
To see how to enter this trade in your online platform, please look at the order ticket below, which I pulled off of Interactive Brokers .
If you are uncertain on how to execute an options spread, please watch my training video on How to Execute a Vertical Bear Put Spread by clicking here
The best execution can be had by placing your bid for the entire spread in the middle market and waiting for the market to come to you. The difference between the bid and the offer on these deep in-the-money spread trades can be enormous.
Don't execute the legs individually or you will end up losing much of your profit. Spread pricing can be very volatile on expiration months farther out.
Keep in mind that these are ballpark prices at best. After the alerts go out, prices can be all over the map.
Here are the specific trades you need to execute this position:
SELL 66 August, 2017 (TLT) $131 puts at………………………………$7.00 
Buy to cover short 66 August, 2017 (TLT) $129 puts at…………….$5.02
Net Proceeds:…………………………………………………………………….$1.98
Profit: $1.98 – $1.67 = $0.31
(66 X 100 X $0.31) = $2,046 or 18.56% in 8 trading days.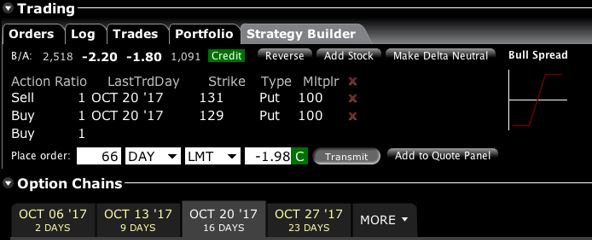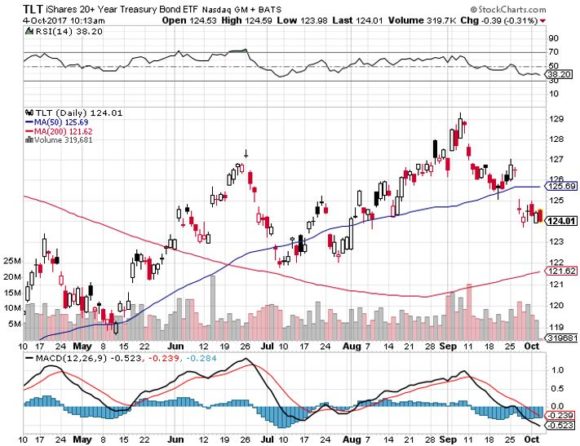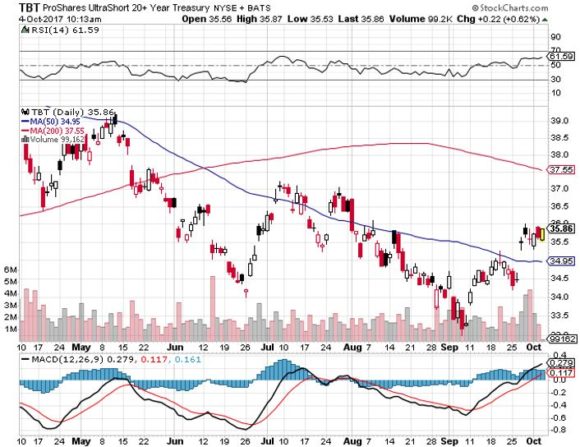 THE SPECIAL OFFER