Teeka Tiwari has been called crazy more times than he can count. But I've seen firsthand how his "crazy" ideas have brought extraordinary wealth to his readers. His top open crypto recommendations are up 8,526%… 14,594%… and 18,534%.
So read today's insight from Teeka with an open mind. It's about the next "crazy" idea on his radar. He believes it's the best opportunity outside of crypto to make those kinds of potentially life-changing gains.
And if you're interested in learning even more about Teeka's latest big idea – sign up for a free online event he's planned for tonight – Teeka Tiwari's Freedom 2021.
Can This "Crazy" Idea Secure Your Financial Freedom in 2021?
By Teeka Tiwari, editor, Palm Beach Daily
I've been in the newsletter business for 15 years. And every year… someone somewhere has called me "crazy."
Every time I do a live event my publisher wants to call the loony bin on me. But the guys in white coats never come.
Eventually, people begin to see my "crazy" ideas aren't so crazy after all.
For instance, in October 2014, I told a packed conference room that the U.S. stock market was on the verge of becoming the mother of all bull markets. I pounded the table… telling everyone in the room to get as much money in the market as possible.
People openly scoffed at me. But those who listened got the last laugh as the S&P 500 rose from a low of 1,862 to as high as 3,855… a 107% increase.
In September 2019, I got up in front of hundreds of seminar attendees and told everyone to buy Tesla (TSLA) at $44 per share. Again, I was openly ridiculed for making what many thought was an irresponsible recommendation. Since then, Tesla has been as high as $880.
That's a 1,900% gain.
And in September 2017, I delivered my most public crypto prediction on the Glenn Beck show… where I told Glenn's 5 million listeners bitcoin would hit $40,000.
Glenn thought my prediction was crazy. "Tiwari, are you sure you want to say that?" he asked me during the broadcast.
Soon after, we entered the brutal 2018 crypto winter. Bitcoin dropped from a high of $20,089 to a low of $3,191 from December 2017 to December 2018… And people just savaged my prediction. I had to look in the mirror and question whether I was wrong.
---
— RECOMMENDED —
Millionaire's Big Prediction From Living Room Couch
Teeka Tiwari – America's No. 1 Investor – just made an outrageous prediction.
Recorded live from his living room couch…
He blasts Congress, reveals nasty truths about America…
And reveals one technology set to radically change our nation.
Already, 400,000-plus viewers have checked it out.
WARNING: This video may make you furious.
---
Standing Firm
I reexamined my research. And it allowed me to stand firm in my conviction that bitcoin was headed to $40,000.
Fast-forward to 2021. Bitcoin blew past my prediction of $40,000, climbing as high as $41,941.
And guess what?
Two weeks ago, Glenn invited me back on his show… He told me he bought more bitcoin and was "thrilled" he did.
Those aren't the only times I made bold predictions just to be laughed at initially.
Last January, I held another big event and said we'd see a mega wave of initial public offerings (IPOs) in 2020. I said it'd be even bigger than the number of companies that went public during the 2000 tech boom.
Then came the COVID-19 pandemic. The outbreak ground IPO activity to a halt. People thought the IPO bull market I had been calling for was over.
But I had been tracking the IPO market since 2019. I knew the pandemic was just a temporary setback. So I continued to pound the table. And according to the latest data, we saw a record 552 new IPOs last year – just as I had predicted.
---
— RECOMMENDED —
The firm that called the EXACT PEAK of the Dot-Com boom
has just issued another major prediction.
If you've got money invested in the market – and especially in popular tech stocks – this is critical information for the days ahead…
---
Most Important Number in Your Life
Now, I don't tell you these stories to brag. I tell them because I want you to keep an open mind about what I have to tell you next. You may not like reading it…
If you want a legitimate shot at achieving financial freedom in 2021… I'm asking you to consider another one of my "crazy" ideas.
Before you do, I want you to write down something I call a "Freedom Number."
It's the amount of money you need to live the life you deserve.
You see, I'm going to share a fundamental truth with you: Just saying you want a lot of money isn't enough.
You have to ask yourself: "What is the life I want to lead?" and "Whose lives do I want to impact?" Then you have to ask yourself: "How much money do I need to make those plans real?"
You need to know how much money it would take for you to get the financial freedom you've always wanted. That's your Freedom Number.
Once you write that down, I'll show you how you could potentially hit that exact number in 2021 – without putting your current lifestyle at risk.
Let me be clear… I can't guarantee that. But the "crazy" idea we have in front of us this year is the exact type that could get you there.
---
— RECOMMENDED —
"Penny Trade" Pays Warren Buffett as Much as an Extraordinary 4,429%?
"Penny Trades" are cheap and explosive…
Warren Buffett grabbed 46 million of them for 1¢ a pop.
Right now, he's up as much as a rare 4,429% on this trade.
But "Penny Trades" aren't reserved for billionaires like Buffett.
Thanks to SEC loophole 30.52, you can play them in your brokerage account.
One of these "Penny Trades" shot up 183% in one day…
Penny Trades can pay far MORE than stocks…
Our readers just saw a 19¢ trade shoot up as much as a rare 5,100%…
Here's the No. 1 "Penny Trade" for RIGHT NOW
---
Choose the Right Path
It all has to do with the IPO market. Now, here's the "crazy" part. Everyone knows the IPO market is on fire… But what they don't know is they're about to be skinned alive owning most IPOs.
Friends, you're being fattened up for the kill. But you can avoid this slaughter. It all comes down to knowing which of two IPO paths to follow.
I call the first "The Hype Hole" path. Following it could mean you have to work 20 years longer to hit your Freedom Number. That's right. The wrong IPOs can push your Freedom Number dreams back for decades.
The second path – what I call "The Blueprint" path – has the potential to set you free this year. It's critical to your financial future that you're able to tell the difference between "The Hype Hole" and "The Blueprint" paths.
---
— RECOMMENDED —
The Wall Street Legend Who Picked Apple in 2003 and Bitcoin in 2016 – Shares His #1 Pick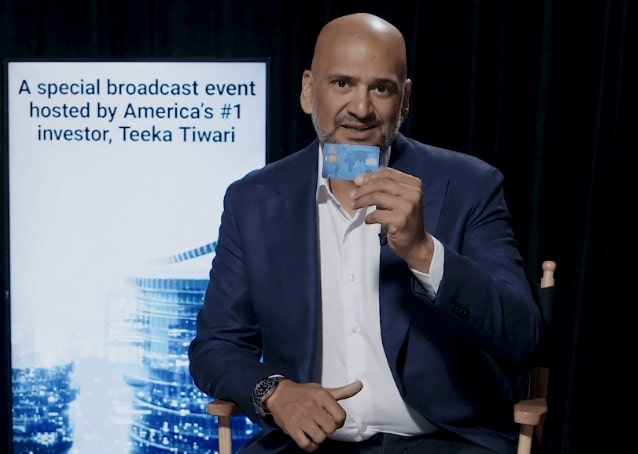 It's not 5G, artificial intelligence, or the internet of things.
The answer will surprise you. And, for those who take early action, it could lead to an eventual $1.6 million payout.
---
Teeka Tiwari Freedom 2021 Pre-IPO Tech Event
That's why, today at 8 p.m. ET, I'm hosting my first event of the year, Freedom 2021.
I'll give you the exact training you need to be able to instantly tell the difference.
Brokers won't tell you how to do this. Venture capitalists hope you never learn how. But I'll share all the details with you.
Along with my free training, I'll unveil how you can get access to my first "Blueprint Path" IPO. The deal ticks all the boxes I look for when I seek to get involved in an IPO.
This IPO is the first-ever tech deal I've recommended. And I can't wait to tell you all about it.
Remember, 2020 was the biggest IPO boom on record. More IPOs debuted than in any year since the 2000 tech boom.
But that's just the top of the first inning.
What's coming in 2021 could be the greatest wealth-creation opportunity in history. But only if you're in the right type of IPO.
You can get in on my Blueprint Path IPO recommendation for just 50 cents per share. But space in this deal is strictly limited by law.
So don't delay – sign up here to join me tonigh at 8 p.m. ET for Freedom 2021. It's totally free.
Let me show you how the right path – "The Blueprint" path – can potentially help you reach your Freedom Number this year without putting your current lifestyle at risk.
If you register today for my Freedom 2021 event, you'll gain access to my three-part IPO masterclass. This masterclass is a $500 value. But you'll get it free for registering now.