Ted Bauman is out with a new video presentation called The Great Bull Market of 2022 for The Bauman Letter service, featuring 5X Your Money on the Investment of the Decade report.
---
— RECOMMENDED —
Is This THE END of the Technology Bull Market?
Stocks are bouncing back after a rough week in the markets. But with inflation at 40-year highs and geopolitical shock escalating, chief technology analyst Matt McCall weighs in and shares his No. 1 recommendation for your money today.
---
What Is Ted Bauman's Great Bull Market of 2022?
Andrew Carnegie, Henry Ford, and John D. Rockefeller each amassed their fortunes in different ways…
But all three of them invested heavily in one particular asset to protect and grow their wealth.
In fact, Carnegie — who got rich in the steel industry — proclaimed this asset "has made more money than all industrial investments combined!"
Today's wealthy elite see the same opportunity:
British private equity barons David and Simon Reuben sunk nearly $170 million into this…
Billionaire Oracle founder Larry Ellison owns nearly $1 billion…
And Zara founder Amancio Ortega built an astonishing $17.2 billion position in this market.
The good part is you don't have to be a billionaire or even a millionaire to get your slice of this market…
Today is your chance to tap into the investment of the decade.
Homes just like the ones we live in are becoming the hottest commodity on the planet.
A record number of wallet-out buyers are making offers on houses all around the country…
And there's a limited supply available…
Which is why we've seen a 100-month rally.
Now it's your chance to profit … without forking over a big down payment or getting into endless bidding wars.
That's why Ted Bauman believes one company is going to see a 5X bump in its brokerage business in the coming years.
The details are in Ted Bauman's brand-new special report, 5X Your Money on the Investment of the Decade.
And this is just one way to play the housing rally.
He has two more special reports covering more under-the-radar opportunities.
The Real Estate Rental Boom: Invest in America's Leading Landlord
Buy Now! The Millennial Home Builder of the Future.
Total value: $398.
You'll get all this for FREE when you subscribe to The Bauman Letter newsletter.
What Is The Bauman Letter?
Ted Bauman's goal with The Bauman Letter is to help people like you achieve financial stability and freedom. In The Bauman Letter, Ted Bauman will show you ways to make money … use some to make more money … and keep the rest!
The Bauman Letter is designed specifically for people who want a range of investment options … not just risky speculative bets.
Ted Bauman recommends stocks with the potential for great short-term gains. But his model investment portfolio also includes stocks with great steady growth potential, as well as dividend-paying income investments.
So you see, whatever your financial goals, whatever stage of life you're in and whatever your investment profile, The Bauman Letter has something for you!
Who Is Ted Bauman?
Ted Bauman joined Banyan Hill Publishing in 2013 and is editor of The Bauman Letter, Bauman Daily and Profit Switch. He lives in Atlanta, GA with his family.
Ted has spent his entire life helping people secure and keep their wealth … and their freedom and independence … starting with himself. Banyan Hill is a natural extension of his quest.
Born in Washington, D.C. and raised on Maryland's Eastern Shore, Ted emigrated to South Africa as a young man in search of adventure. He graduated summa cum laude from the University of Cape Town with postgraduate degrees in economics, economic history and politics.
During his 25-year career in South Africa, Ted served a variety of executive roles in the nonprofit sector, primarily as a fund manager for low-cost housing projects. One effort he helped found, Slum Dwellers International, has gone on to help over 14 million people in 35 countries.
---
— RECOMMENDED —
Log Into Marc Chaikin's $5,000 System Today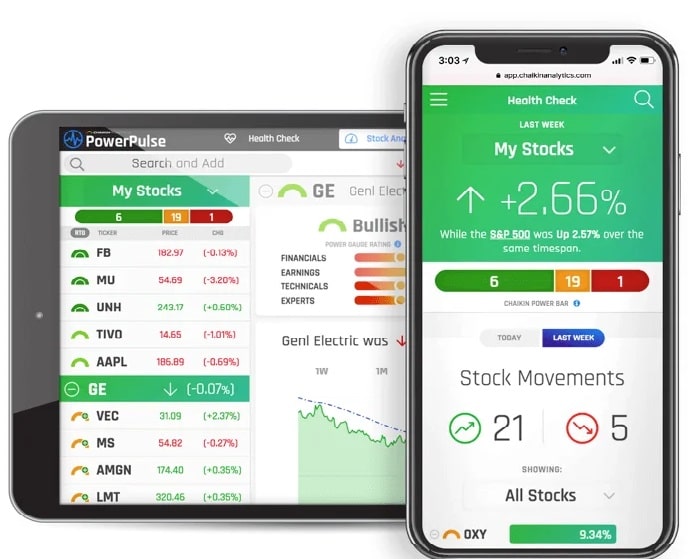 Recently, I met with a Wall Street living legend.
He told me about a system he's created over the past 50 years…
A website that shows you which stocks could soon rise by 100% or more, by typing in any of 4,000 tickers.
At first it sounded like B.S. – until I tried it myself.
Last year alone, it pointed to Riot Blockchain before it shot up 10,090% in 11 months…
Digital Turbine, before it shot up 789% in 8 months…
Overstock, before it shot up 1,050% in 4 months…
and more.
His former clients paid $5,000 a month to access its findings.
Today, he's allowing me to offer you free access to the system here, as part of a major new prediction he's making.
---
During the 2000s, Ted worked as a consultant, researching and writing extensively on finance, housing and urban planning issues for clients as diverse as the United Nations, the World Bank, the South African government and European grant-making agencies. In 2008, he returned to the U.S. where he served as Director of International Housing Programs for Habitat for Humanity International. He left in 2013 to work full-time as a researcher and writer.
Ted's career has taken him all over the world. He has visited more than 80 countries in Africa, Asia, Europe, Latin America and the Caribbean. These experiences have taught Ted that it's possible for anyone to grow their wealth and live the life they've always dreamed of. He brings his commitment to this goal in his monthly newsletter, The Bauman Letter.
He is regularly quoted in financial publications including Barron's, Forbes, MarketWatch, The Guardian and Benzinga, as well as on financial TV. He has also published articles in international journals including the Journal of Microfinance, Small Enterprise Development, and Environment and Urbanization. In addition to his own book, Endless Income, he also co-authored the book Where to Stash Your Cash Legally with his father and former U.S. Congressman, Robert Bauman.
What's Included With The Bauman Letter Subscription?
Here's everything that you'll get as a subscriber:
Every month, you'll receive an eight-page dossier. This isn't a typical investment newsletter. Ted Bauman will start each issue by analyzing a major trend and how it can impact your wealth.
As subscriber John S. describes it:
" Upon receiving my first Bauman Letter I could tell right away that this would be a different experience. It was akin to receiving a letter from a friend … a well-informed friend. The Letter provides a full explanation of the macroeconomic or industrial situation and the specific reasoning for the recommended stock. But more than anything, your recommendations are generally not mainstream picks that I would have found on my own. So far, The Bauman Letter has outperformed my other newsletters. I have added six of your recommendations to my portfolio and they are all in the green — and I thank you for that! "
Usually, Ted Bauman takes a different approach. And by all accounts, it works. So whatever the major trend is, he will drill it down into an ACTIONABLE investment. Ted Bauman is looking out for opportunities that often elude the mainstream … opportunities that can put YOU on the path to securing your financial future.
Each investment will be allocated to one of three portfolios. So it doesn't matter if you want to collect outsized dividends, invest in steady, reliable companies or go for explosive growth stocks. You'll find what you're looking for. And that brings me to the next perk of The Bauman Letter…
---
— RECOMMENDED —
GOLD ALERT: Extraordinary Upside in ONE Stock (Not a Miner)
Gold prices just surged to the highest level in a year and could be on the verge of the biggest bull run in half a century. (It gained 1,700% during the high-inflation 1970s.) Now, a top analyst says you can capture ALL of the upside without touching a risky miner or a boring exchange-traded fund. He sees 1,500% potential gains long term with very little risk.
---
Instant access to the model portfolio
Ted Bauman research service is unlike anything else out there because you get not one … but three model portfolios. And within moments of accepting this invitation, you'll be granted unlimited access to all three.
The first is Ted Bauman's income portfolio which seeks high-yielding stocks that can also generate high returns. The purpose of this model portfolio is to provide INCOME with some safety. And it MORE than delivers on that score.
The next one focuses on RELIABLE GAINS over time. At first glance, these may look "boring." But Ted Bauman's job isn't to find you stock with exciting stories … it's to find you stocks with exciting RETURNS. History shows us these buy-and-hold opportunities can be found in unlikely places … like when O'Reilly Automotive went up over 7,000% in two decades. And it was nothing flashy. Just an auto parts store.
Finally, Ted Bauman has another portfolio that takes a bit more risk. So naturally they haven't all been winners. This model portfolio focuses on explosive growth stocks. The goal here is to churn out the biggest possible gains in the shortest possible time.
In each of these portfolios, you'll see entry dates, target buy prices and whether Ted recommends that you hold or buy. This is really the best way to look over Ted Bauman's shoulder as he navigates the housing boom and look for other opportunities. And it's a value you CAN'T GET ANYWHERE ELSE.
Weekly updates
Every week Ted Bauman will email you a webinar. This will include critical updates about past recommendations. You might also hear about a new trend and a new opportunity that Ted have spotted.
Whatever the case, you'll never be left in the dark about what's going on in the markets or with the positions in the model portfolio.
Trade alerts
Markets move fast. That's why whenever it's time to exit a position, or take some profits, Ted Bauman will send you an email recommending exactly what to do. And on certain occasions, a new opportunity is just too good to pass up and can't wait for Ted's monthly issue. You'll hear about it through Ted Bauman's trade alerts.
24/7 access to a private website
No matter where you are, or what time it is, you can access your reports, monthly briefings, portfolios and updates. The moment you subscribe, you'll get instructions on how to access this password-protected, members-only site.
A dedicated customer care team
If you ever have any questions about the service, just give Ted Bauman's customer care team a call. They'll show you how to get the most from your subscription.
Library of past issues
Where you can access titles like: Lock in Double-Digit Yields From This "Billionaire's Only" Market … Double Your Money in 2 Years as the Race to Driverless Cars Shift Into High Gear … Score 633% in 5 Years on Solar Energy's Next Boom and much more!
The Bauman Letter Pricing
You can get started with a FULL YEAR of The Bauman Letter for just $47.
The Bauman Letter Refund Policy
You're backed by The Bauman Letter one-year, money-back guarantee.
If at any time during the next 365 days you feel that Ted Bauman's research and recommendations don't have the potential to change your life…
Or you feel they're not performing up to par…
Or if you're not 100% satisfied for any reason at all…
You can call or email Ted's customer care team at 866-584-4096, and they'll issue a full refund.
Final Word
In a month or two from now, all the major financial news outlets and all the gurus on CNBC will be talking about the housing boom.
Many people will be walking around in the dark, bumping into tables, looking for the best way to make money.
But you could have a blueprint giving you action steps on how to play Ted Bauman's top recommendation from the No. 1 investment of the decade.
Whether it's Amazon … bitcoin … pot stocks … how many times have you thought: Gee, I wish I invested in that earlier.
That's the opportunity in front of you now.