Can Rebound Profit Trader really get you gains that are as high as 1,264% in just 10 days and making a profit of at least $200,000 in the following year? That sounds very far out there. That notion is even guaranteed by one of the major Wall Street players, so we can't help but wonder – is there a catch?  See our Rebound Profit Trader review to see what the real deal is…
Rebound Profit Trader – What is it?
Paul Mampilly devised a strategy called Rebound Profit Trader, which allows you to make those gains, simply by making one trade every 23 days. The main benefit of using this strategy is that you will not have to wait a long time before you see the results. For this strategy to truly work, Paul recommends investing $5,000 in it. Granted, you can try it out with smaller amounts, but for the best possible results, you should be prepared to set aside that sum.
This strategy does not utilize futures, aftermarket trading or margins. Instead, it uses a rather complex technology, which is comprised of 3 distinct phases, to identify investment opportunities. Rebound Profit Method uses a multi-layered momentum analysis system, which starts by laying out a portfolio of 89 exchange traded funds, with number 89 being the strongest and 1 being the weakest. Paul and his team do this on a daily basis, in order to ensure that they have the right info for the analysis.
By doing this, they are trying to discover 3 forms of momentum – trajectory, consistency and ETF profitability. For an ETF to be eligible for the Rebound Profit Trader, it has to satisfy all 3 parameters. However, this is only the first step in identifying the actual trade. After the ETF has been successfully identified, the search for the best stock within it begins. If a stock hits new 52 week highs, it can be dubbed as a good investment.
Last but not least, because some of the stocks found within those ETFs are not easy to obtain, Paul recommends buying options instead, in order to reduce the risks of the trade. While quite a lot people are not too fond of options trading, Paul recommends it, because it is a cheap, fast and safe way to trade.
---
— RECOMMENDED —
Log Into Marc Chaikin's $5,000 System Today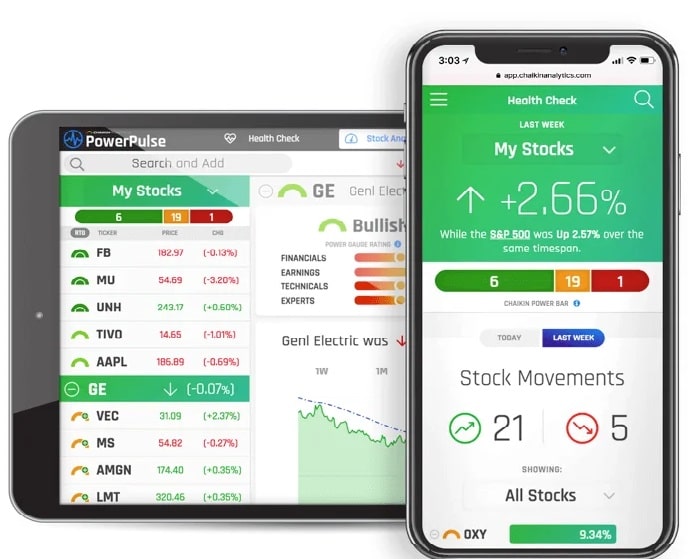 Recently, I met with a Wall Street living legend.
He told me about a system he's created over the past 50 years…
A website that shows you which stocks could soon rise by 100% or more, by typing in any of 4,000 tickers.
At first it sounded like B.S. – until I tried it myself.
Last year alone, it pointed to Riot Blockchain before it shot up 10,090% in 11 months…
Digital Turbine, before it shot up 789% in 8 months…
Overstock, before it shot up 1,050% in 4 months…
and more.
His former clients paid $5,000 a month to access its findings.
Today, he's allowing me to offer you free access to the system here, as part of a major new prediction he's making.
---
Who is Paul Mampilly?
Paul Mampilly started out small on the Wall Street, but quickly advanced through the ranks, eventually settling at the helm of a $6 billion hedge fund. During that time, the fund grew to an astonishing $26 billion. His abilities and achievements didn't go unnoticed and he appeared in quite a few renowned media outlets, such as Fox Business, CNBC, and Bloomberg. A true evidence of his skill was a stock portfolio he made for a private research company, which made total gains of 1,598% in 3 years. That being said, you should also keep in mind that none of these people had access to Paul's Rebound Profit Method.
What Do You Get For Your Money with Rebound Profit Trader?
Rebound Profit Trader Recommendation
Every week, you will get the best options trade recommendation, as well as a detailed explanation of why it is recommended, totaling 4 recommendations per month.
The Rebound Profit Blueprint
You will get access to a full report that highlights the exact methodology used for Rebound Profit Trader.
Buy and sell alerts
You will get both buy and sell alerts by email and text message, ensuring that you make the trade in just the right time.
Customer Care Hotline
You will get access to a dedicated customer care number, which you can call when you need assistance with Rebound Profit Trader.
24/7 access to an exclusive website
You will get access to a member's only website that contains the entire model portfolio, amongst other things.
Options 101 guide
A complete guide on everything you need to know about options trading.
The price for the full year of Rebound Profit Trader stands at $2,995 for the first 800 people who sign up. Because Paul wants to have only members who are going to be committed to his strategy, there are no refunds for the Rebound Profit Trader membership. However, if you somehow do not make that initial $5,000 into $200,000 in the first 12 months, you will get Rebound Profit Trader for free the year after that. Membership to Paul's Rebound Profit Trader is quite exclusive and only the first 800 people who sign up will be able to enjoy all the benefits it has to offer.
---
— RECOMMENDED —
Is This THE END of the Technology Bull Market?
Stocks are bouncing back after a rough week in the markets. But with inflation at 40-year highs and geopolitical shock escalating, chief technology analyst Matt McCall weighs in and shares his No. 1 recommendation for your money today.
---
The Pros and Cons of Rebound Profit Trader
The Pros
You will be getting a recommendation on the 48 best trades you can make, every year. Those recommendations will come in form of a weekly update, containing one trade per week. The recommendation will also be explained in great detail and backed up with hard data and facts, ensuring that you understand why you should make that particular trade.
The Rebound Profit Blueprint report contains the exact layout of the Rebound Profit Method, as well as the complete research and portfolio Paul made. This report has never been published before, which means that you will be one of the select few who could make use of it.
A guarantee that you will grow the initial $5,000 investment into $200,000. If you fail to get to that number, you will get your second year of Rebound Profit Trader membership free of charge.
You will get the Options 101 guide, which contains everything you need to know about options trading. With it, you can unlock the hidden potential of options trading and start reaping the rewards.
Exclusive access to a members-only website and a 24/7 dedicated customer hotline.
The Cons
The only thing that picked our eye is that even though this method promises gains and making a profit in a short amount of time, it requires you to commit to it, in the long run. However, if you decide to quit, after you made a $100,000 profit, you can do so, just don't expect a refund.
---
— RECOMMENDED —
GOLD ALERT: Extraordinary Upside in ONE Stock (Not a Miner)
Gold prices just surged to the highest level in a year and could be on the verge of the biggest bull run in half a century. (It gained 1,700% during the high-inflation 1970s.) Now, a top analyst says you can capture ALL of the upside without touching a risky miner or a boring exchange-traded fund. He sees 1,500% potential gains long term with very little risk.
---
The Bottom Line
While Rebound Profit Trader may bring you some instant gratification, it will probably need a bit more time to fully develop and bring you the success you were looking for. Paul Mampilly is an experienced investor, who can definitely make the Rebound Profit Method work and his Rebound Profit Trader could easily prove to be just the right tool for the job.