Today Jason Bond wants to show you three large-cap stocks in his Jason Bond Millionaire Roadmap program that recently broke out, and how to potentially play them.
Why These 3 Large-Cap Stocks Can Continue Higher
SPOT
First, Spotify Technologies (SPOT) is one stock that's been absolutely on fire.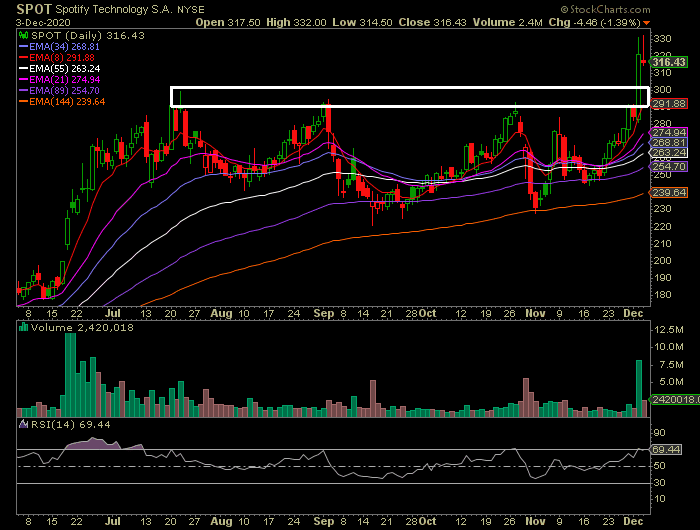 There was a massive ascending forming, and SPOT finally broke above that $290 – $300 area (the white rectangular box in the chart above). That signals the demand far outpaces the supply.
Of course, when traders see this action, they typically think of two things: should they buy the breakout and chase the stock, or wait for a pullback to get in on the action?
One way to play it would be to wait for a pullback into the $290-$300 range and purchase shares. Thing is, this is an expensive stock and could eat up a lot of buying power.
For me personally, with expensive stocks, I want to sell put spreads if I'm bullish.
So with SPOT, one way to play it would be to sell the $300 puts and purchase the $290 puts expiring in say a week or two from today, if I think the stock can stay above that level.
This allows me to profit in three different situations.
Makes sense, right?
By doing that, I don't really have to worry a whole lot and stare at my screens waiting for the stock to move in my direction. The stock can go up, slightly down, or sideways and I can make money.
CRWD
Now, let's take a look at CrowdStrike Holdings (CRWD).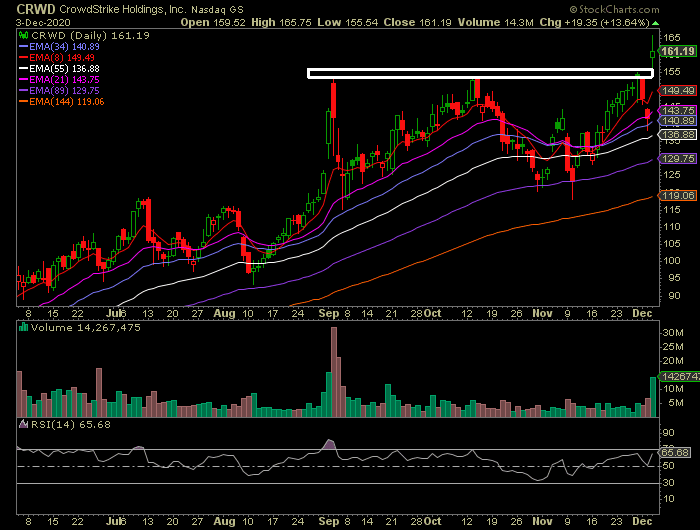 Same idea here. The stock formed an ascending triangle and broke out. One key level to keep an eye on for this is that $155 level.
It's a break breakout level and a key reflection point. If that becomes support, then it's a sign CRWD can continue higher.
With this, I think the bull puts may be advantageous.
ETSY
Last up, there's Etsy Inc. (ETSY).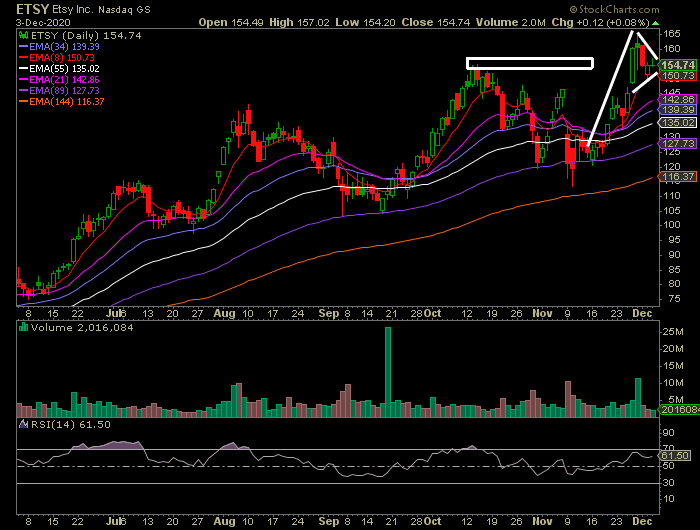 The stock has a bull flag / pennant pattern forming and it's right around a key level ($155, where the stock had a tough time staying above before).
With this play, the calls may make sense, but a bull put spread is safer.
Now, whether you decide to take these plays or not, that's your decision and I can't tell you what to do with your money.
Listen, maybe large-cap stocks aren't your thing, and you'd much rather trade cheaper stocks that move fast.
If so, I've got the perfect solution for you and I believe it can help you uncover some of the hottest stocks out there.
It's my small-cap momentum trading strategy, and if you want to learn how I utilize chart patterns to trade fast-moving stocks…
Then you'll want to attend this exclusive training session here.
This is one of the very first steps you need to take, if you're serious about getting into Millionaire Roadmap.
Jason Bond Millionaire Roadmap Training
Last night, I went live in a closed-door event, and as I said earlier this week… there would be no replay.
I'm sorry to be the bearer of bad news that you won't be able to rewatch what happened last night.
Bottom line — I brought Millionaire Roadmap back, and there are millionaire traders in the chat moderating and helping members learn how to trade. I'm laser-focused on attacking the market and making 7 figures in 2021.
Right now, your window of opportunity to get in shut. I may re-open it later, but we have to be highly selective when it comes to who we let into the program.
Now, I do want to help you get better as a trader, so today I want to show you my 3 SIMPLE PATTERNS – That's All I Use Every Day to Locate My Favorite Opportunities. Learn Them Here!