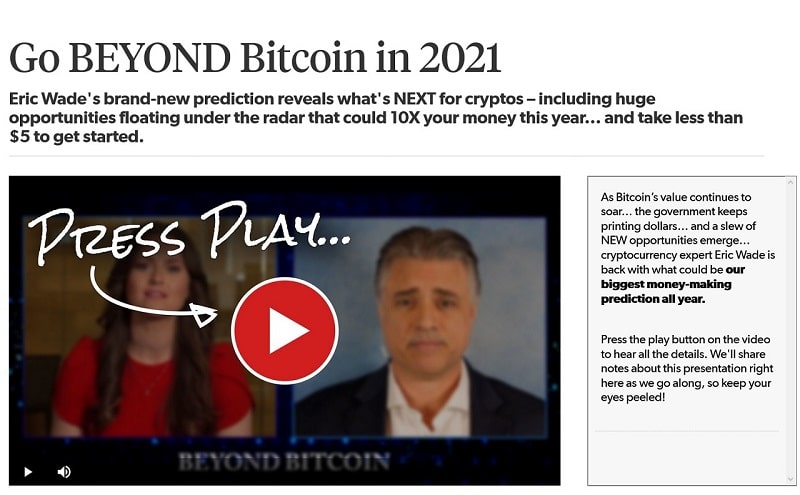 Eric Wade's GO Beyond Bitcoin Event – Watch The Replay Here
Get TWO FULL YEARS of Unrestricted Access to Eric Wade's Crypto Capital for Less Than the Price of One – 70% OFF
We've written a ton about cryptocurrencies n recent months…
That's mainly because bitcoin – the most well-known cryptocurrency – is on an incredible run higher over the past year. Investors can't seem to get enough of it… At the end of March 2020, bitcoin traded for about $6,000. Today, it's at roughly $53,000 – a roughly 780% gain in a year.
After this massive surge, some folks are wondering if it's too late to profit. But according to Crypto Capital editor Eric Wade, you haven't missed the boat on bitcoin… yet.
You see, we've written about cryptos so much for another reason… Wall Street is coming.
These days, it also seems like you can't go a day without a major institution adding cryptocurrencies to its offerings or the way it does business. We're talking about companies and banks like PayPal (PYPL)… JPMorgan Chase (JPM)… Morgan Stanley (MS)… and more.
Continue reading below where Eric explains what Wall Street's entrance into the crypto space means… details why it points to even better days ahead for bitcoin… and reveals a key misconception that could change the way investors look at cryptos going forward…
---
— RECOMMENDED —
$500 Bonus! (Free Gift From Teeka Tiwari)
Former Wall Street VP and hedge fund manager Teeka Tiwari is giving away an unprecedented $500 in bonuses.
Click here to get $500 in free bonuses from Teeka
---
You're Running Out of Time to Invest in Bitcoin
Sometimes investors are reluctant to buy assets that have risen significantly in price.
That's the story with bitcoin…
Over the past six months or so, it has been on an incredible run higher. A single bitcoin traded for less than $11,000 in September 2020. It's up more than 380% since then – to about $53,000 as we go to press.
That massive rally has given many investors pause. But if you haven't invested in bitcoin yet, you might not want to wait much longer. That's right… You're running out of time.
As I'll explain today, Wall Street is coming to the crypto space. And there won't be enough bitcoin to go around. This will send prices soaring faster than anyone expects…
Just about every big bank on Wall Street is working on a way to enter the cryptocurrency space.
For example, the Bank of New York Mellon (BK) recently invested in cryptocurrency startup Fireblocks. The bank plans to use Fireblocks' tools for securely storing and transferring cryptocurrencies to serve as a custodian for digital assets.
Meanwhile, JPMorgan Chase (JPM) is creating a basket of 11 crypto-related stocks… Morgan Stanley (MS) plans to allow some clients to invest in bitcoin-related funds… And the world's largest asset manager, BlackRock (BLK), plans to include bitcoin futures as eligible investments for two of its funds.
Plus, PayPal (PYPL), which already allows users to buy and sell crypto, confirmed earlier this month that it's acquiring Curv, a technology firm that powers the secure storage of cryptocurrency. And Visa (V) recently announced a global partnership with Crypto.com.
Facebook (FB), Tesla (TSLA), Twitter (TWTR) founder Jack Dorsey, and legendary hedge-fund manager Paul Tudor Jones have also all invested in or are working on crypto-related projects.
In short, trillions of dollars are headed for the crypto space. This will push prices up rapidly.
But I believe they'll climb faster than anyone expects because of one big bitcoin misconception…
---
— RECOMMENDED —
Stansberry's NEXT Big Crypto Prediction
As bitcoin's value continues to soar and the government keeps printing dollars, cryptocurrency expert Eric Wade is back with what could be our biggest moneymaking prediction this year. The last time Eric held an event like this, he urged you to buy bitcoin just before it soared over 400% in only seven months. Now, he's revealing what's NEXT… including six tiny cryptos floating under the radar that could 10 times your money in 2021.
---
You've likely heard the term "market capitalization." That's the total dollar value of a company's outstanding shares.
Stock investors rely on market capitalizations for a quick check of the size of a company. Bigger companies have been around longer and may be more successful, while smaller companies may have more growth potential.
It's a useful (if basic) parameter for crypto investors, too.
Generally, when we talk about market cap for cryptos, we mean the price of the token multiplied by the circulating supply of the token. "Circulating supply" is the total supply of tokens currently available to the market. And you can find the price by looking at real-time data from many different crypto exchanges.
However, circulating supply is difficult to determine for two reasons…
First, most cryptos are designed to continuously issue new tokens or coins on a routine basis. For example, the bitcoin network rewards miners with 1,800 newly created bitcoin every day.
But the big reason circulating supply is hard to calculate is because even though most cryptos are on public ledgers (which means that anyone can track them), there's no easy way to know how many cryptos are truly circulating.
Because bitcoin has a fixed supply, only 21 million will ever be mined. Right now, there are roughly 18.7 million bitcoin in existence.
So let's say two investors each bought one bitcoin a few years ago…
One of the investors plans to hold his bitcoin as a long-term investment. His bitcoin is safely tucked away in a digital wallet that isn't connected to the Internet. And he won't sell or spend it for a long time – if ever.
The other investor is careless and loses his private key. So he can no longer access his bitcoin. In other words, he can't sell it or spend it, even if he wanted to.
According to CoinMarketCap – one of the most popular websites for crypto investors to get information – the circulating supply of bitcoin includes the holdings of both of these investors. After all, there's not a great way to determine who can still access their bitcoin and who can't.
This is important because we're not just talking about two investors. We're talking about potentially millions of coins – worth billions of dollars.
At least 5 million bitcoin are in the hands of investors who have no intention of ever selling.
And nearly 4 million bitcoin have been lost, according to software company Chainalysis. The investors who own these cryptos lost their passwords, or they lost their wallets or laptops completely.
That's 9 million bitcoin altogether… nearly half of the roughly 18.7 million bitcoin that have ever been mined.
But these bitcoin are still included in the "circulating supply"… and the market cap calculation is based on that. That means these calculations are misleading. Many of those tokens are likely lost forever.
The crypto space is working on different ways to take this into account. But it has to figure out a new way to calculate market cap that investors would find reasonable.
Just to be clear, this would have no effect at all on the underlying technology and development of cryptos. But what would investors do if they suddenly realized there were half as many bitcoin available than they previously thought?
I believe they would clamor to buy bitcoin as these coins become scarcer – sparking a rally in the crypto space. That could happen as this knowledge spreads.
And no matter whether the circulating supply of bitcoin is 18.7 million or 9 million… Wall Street is investing in the crypto industry. Very soon, crypto will see a flood of new investors… and there won't be enough bitcoin to go around.
---
— RECOMMENDED —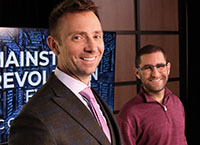 Where is bitcoin headed over the next few months?
Bitcoin is hitting record highs. Should you buy, sell, hold on for dear life? Matt McCall just gave the full details on where he believes the crypto markets are headed in a recent special presentation.
You can watch the replay here.
---
Eric Wade's Beyond Bitcoin Event
Eric believes bitcoin is officially entering the "mainstream"… That's why now is the time to invest if you haven't already. Put simply, a flood of new investors is coming to the crypto market – and it's causing the largest transfer of wealth we've seen in decades.
But if bitcoin's surge higher in recent months still makes you pause, you're not alone…
That's why Eric is hosting an urgent briefing next Wednesday, March 31, at 9:30 a.m. Eastern time. He'll reveal what could be next for bitcoin and the broader crypto space. Plus, he'll detail several smaller crypto opportunities that offer huge potential upside today.
Best of all, Eric is sharing his latest thoughts on the crypto market absolutely FREE. He only asks that you let us know you're coming.